Banana Nut Bread Pudding
The secret ingredient in Banana Nut Bread Pudding is bread crumbs. Dry and light to carry, bread crumbs absorb the sweet juice created when you gently cook banana slices and sugar in water.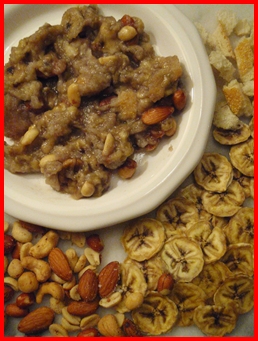 I know it looks like mush in the photo, but trust me; you'll like it.
Ingredients:
½ cup banana slices, dried
¼ cup mixed nuts
¼ cup bread crumbs
2 tsp sugar
½ cup water

At Home:
For more information about dehydrating bananas, see the dehydrating fruit page.
Learn how to make bread crumbs using a dehydrator on the making bread crumbs page.
Pack bananas and sugar in a small plastic bag. Pack bread crumbs and nuts in another small plastic bag and enclose both bags in a larger zip lock bag to stay organized.

I dry plain Italian-style bread for the bread crumbs – broken into pieces, not finely crumbled.

On the Trail:

Combine dried bananas and sugar with water in pot. Light stove and warm for ten minutes over low flame. No need to boil – you just want the banana to rehydrate and warm up.

Extinguish stove and stir in bread crumbs and nuts. The bread crumbs will absorb the sweet juices and the bananas will break down into a pudding texture.

Continue Reading...
If you liked Banana Nut Bread Pudding, try my Peach Cobbler recipe. I use bread crumbs in that recipe, too.