Grits Recipes
My grits recipes include ham and vegetables, but let's face it; grits won't wake you up without some butter or cheese flavor. Unfortunately, the instant flavored grits packets from the store include many unnatural ingredients like partially hydrogenated soybean oil, corn syrup solids, artificial flavors and colors, and monosodium glutamate.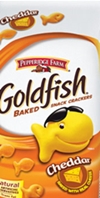 The Quaker Oats plain grits don't have any of the additives.
To add a cheesy flavor to them, I use Pepperidge Farm Baked Goldfish. Pepperidge Farm packs those little fish with real cheddar cheese without slipping in any artificial ingredients or partially hydrogenated oil.
When preparing these grits recipes, remember that grits absorb a lot of water. Use ¼ cup of grits and 1¼ cups of water. You'll need to baby sit the pot with some stirring. Add a little more water if necessary and be prepared to lift the pot off the stove to prevent burning.
Pizza Grits Supreme
Ingredients:
¼ Cup quick grits
¼ Cup dried tomatoes, peppers, mushrooms, and onions
¼ Cup dried deli ham

2 Tbsp dried pineapple pieces

¼ Cup Pepperidge Farm Pizza Flavored Goldfish
Salt and pepper to taste
1¼ cups of water
At Home:
For more information about dehydrating sliced deli ham or vegetables, see dehydrating meat or dehydrating vegetables.
Pack goldfish in a small plastic bag and enclose with other ingredients in a larger plastic bag.

Other Cheese Options:

1. Real cheddar cheese. It should keep for a day or two in moderate temperatures. Keep block of cheese in original packaging or wrap in plastic. Cut the cheese on the trail as needed.

2. 1 – 2 tablespoons of cheddar cheese powder borrowed from a box of macaroni & cheese. Pack in separate bag. (Approx. 100 fewer calories than goldfish. Gluten free.)


On the Trail:
Combine grits, vegetables and ham with water and soak for five minutes. Light stove, bring to boil, and cook for one more minute. Insulate pot and wait ten minutes.

Prior to serving, stir crumbled Goldfish or other cheese options into grits. If you use powdered cheese, add a little extra water.

---
Green Grits & Ham
Ingredients:
¼ Cup quick grits
¼ Cup dried peas

¼ Cup dried deli ham

¼ Cup Pepperidge Farm Cheddar Goldfish
Salt and pepper to taste
1¼ cups of water
Pack and prepare in the same manner as Pizza Grits Supreme.
---
DIY Grits
Create your own grits recipes by dehydrating your favorite vegetables and meat. Peppers, tomatoes, and ground beef feel right at home in grits. For a single serving, follow the basic formula of ¼ cup grits, ¼ cup meat, ¼ cup veggies, and 1¼ cups of water.
For cheddar cheese flavor, add the goldfish, a couple tablespoons of cheese mix from a package of Annie's Homegrown Macaroni and Cheese, or carry a little real cheddar cheese.
Salsa leather can also be added to grits for a unique flavor.
I hope you enjoy these grits recipes. Return to breakfast recipes.
Click here for information about purchasing dehydrated vegetables and meat for these recipes.