Oatmeal Recipes
These primate-pleasing oatmeal recipes include dried fruits. Feed the gorilla inside you real bananas and don't monkey around with the imitation bits found in instant oatmeal.

Cook dried fruits in the oatmeal to soften them up and to release some of their sweetness. Dried bananas will nearly disintegrate while other dried fruits like apples, peaches, and berries will hold their texture. Go ape and combine several fruits together!

Quaker® Old Fashioned Oats cook sufficiently with a minute of boiling but retain a little chewiness which I like better than pure mush. Stir frequently and add more water if needed to prevent scorching. Remove from stove after one minute of boiling and wait five minutes before topping with granola.

I top my oatmeal with Cascadian Farm® Organic granola, but any granola will do. Choose a variety of granolas with different combinations of sweetened oats and other grains, nuts and seeds, bits of chocolate, raisins or dates – and create different oatmeal recipes for every day of the week.

I tried adding peanut butter and other creamy ingredients like Nutella® to oatmeal but the result was an overload of creaminess and a dilution of the nut butters. I'd rather spread peanut butter over a bagel.

Oatmeal goes well with NIDO® Instant Dry Whole Milk. Add two tablespoons of milk powder to ½ cup water in a separate cup and stir briskly. I pour half over the cooked oatmeal and drink the rest.


Apples & Raisins with Cinnamon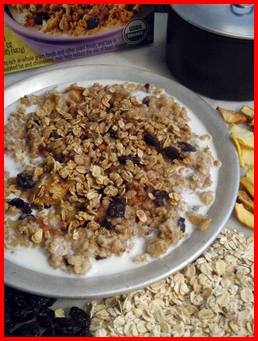 Ingredients:
½ Cup old fashioned oatmeal
¼ Cup dried apples

¼ Cup raisins
¼ Cup granola
1 tsp sugar (optional)
½ tsp cinnamon
Pinch salt

1¼ cups water
---
Fruit & Nuts with Chocolate
Ingredients:
½ Cup old fashioned oatmeal
½ Cup dried fruit - any kind

¼ Cup granola with nuts & chocolate pieces
1 tsp sugar (optional)
Pinch salt

1½ cups water
At Home:

Pack milk powder, granola, and raisins in separate small bags and enclose in larger bag with other ingredients. Raisins are packed in their own bag to keep their moisture from migrating to the other ingredients.

On the Trail:

Combine all ingredients except milk powder and granola with water in pot and soak for five minutes. Light stove, bring to boil, and cook for one minute. Stir frequently and add more water if necessary. Insulate pot and wait five minutes. Top with granola.
Continue Reading...

Learn about dehydrating fruit for these backpacking recipes.
Return to backpacking foods for breakfast.