Backpacking Foods for Breakfast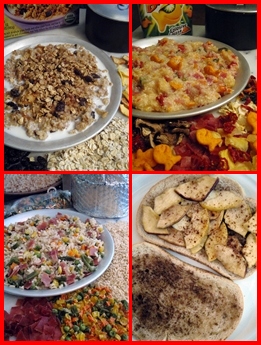 What backpacking foods get you going in the morning? I go for hearty meals like grits with meat and vegetables, but oatmeal and fruit with milk get me started on the right foot as well. My old wrestling coach instructed the team to eat big breakfasts and smaller meals for supper. He believed that athletes needed more food in the morning to meet the energy demands of the day, especially for those grueling practices. We ate big breakfasts and won a state championship. I still believe in the big breakfast theory, but when it comes to backpacking, I eat a big supper, too.
Click on the breakfast recipes below for pictures and cooking instructions:
Rice Pudding makes a great breakfast or dessert.
Grits Recipes: Green Grits and Ham and Pizza Grits Supreme.
Oatmeal Recipes: Apples & Raisins with Cinnamon and Fruit & Nuts with Chocolate.
Rice Recipe: Ham and Vegetables with Rice
Maple Cinnamon Toast with Apples
I eat eggs almost every day at home, but eggs don't make my backpacking foods list. Who wants to choke down reconstituted powdered eggs? To replace some of the protein that I normally get from eggs, I work dehydrated ham into my grits and rice recipes or eat ham on the side like crispy bacon.
Moo? I go with NIDO Brand Instant Dry Whole Milk. It tastes better, to me, than low fat milk, and provides more slow burning calories from fat for greater endurance down the trail. Adding ½ cup of whole milk to oatmeal provides 75 additional calories. For a no-cook breakfast packing over 800 calories, try soaking ½ cup of dehydrated peaches or bananas in one cup of milk for about ten minutes and combine with two cups of granola cereal. Cascadian Farm makes a tasty organic granola cereal in several varieties including Cinnamon Raisin and Dark Chocolate Almond. My grocery store stocks Cascadian Farm granola cereals in the health food section.
Common backpacking foods that I avoid like poisonous snakes are pop tarts, sugary breakfast bars, and highly refined cereals. Sure, these grocery store staples save time, but my body simply won't run on empty calories. In addition to all the sugar, most of these products are laced with partially hydrogenated oil, a disease causing substance with no nutritional value that interferes with normal bodily functions. Artificial butter or cheddar flavored grits are also polluted with partially hydrogenated oil. The single serving packets of instant oatmeal are convenient if you don't mind eating lots of sugar and fake fruit. As for my trail breakfast, I prefer homemade backpacking meals with real fruit, real vegetables, and real meat.
Eat a big healthy breakfast and have a great day!
If you like a big breakfast, you can find more backpacking foods in the supper recipes section.