Making Bread Crumbs & Dehydrating Cake
Making bread crumbs with a food dehydrator is easy. Simply place slices of bread on the dehydrator trays and dehydrate at 125 degrees for approximately four hours. My Excalibur Food Dehydrator's nine 15 x 15 inch trays handle four loaves at a time. When the bread is dry, it will crumble easily in your hands. You don't want any sponginess left in the bread or it might spoil later. If you want fine bread crumbs, roll over the crumbs with a rolling pin or crush with a wooden tenderizing mallet. I use an electric grinder.
I use fresh baked bread from a local bakery rather than the run-of-the-mill white bread off the grocery store shelves. Neutral flavored breads like Italian work well, but you can dehydrate any bread you like. Whole grain pita bread dries well and makes a nice topping for chili. Full flavored breads like rye and pumpernickel make nice crumbs for trail mixes or to top off a bowl of soup.
Sweetening Bread Crumbs.
When making bread crumbs for snacking or for dessert recipes such as Banana Nut Bread Pudding or Peach Cobbler, I sometimes sweeten the bread with honey or maple syrup. Before turning on the dehydrator, I drizzle one teaspoon over each slice of bread. It will take an extra hour or two to dehydrate bread if you sweeten it with honey or maple syrup. I also sprinkle a little cinnamon on the bread before dehydrating it. The dried bread will break into a few pieces, so don't expect to have a perfect slice of toast.
Add Bread Crumbs to Ground Beef.
I also work ½ cup of finely ground bread crumbs into a pound of ground beef or turkey before dehydrating. At meal time, the bread crumbs in the meat absorb water while the meat cooks, improving tenderness.
Now that you know how to make bread crumbs, try drying some angel food cake.
---
Dehydrating Angel Food Cake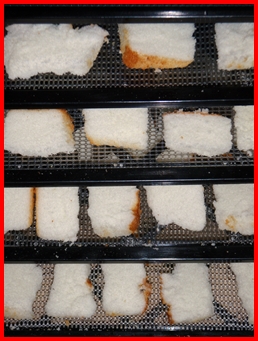 Cut cake into slices about ½ to ¾ of an inch thick and dehydrate the same way as bread. Four hours in the dehydrator at 125 degrees should do the trick. The photo at the top shows angel food cake going into my Excalibur Food Dehydrator. Angel food cake dries well because it contains no oil or butter. Cakes made with oil, butter, or egg yolks may spoil on long backpacking trips if not eaten right away due to the high fat content.
I dehydrate angel food cake for backpacking recipes such as Pineapple Up-Side-Down Cake and Trail Angel Cake. Some of the cake absorbs the warm pineapple or strawberry juices and some of it remains crunchy. Drizzle chocolate sauce over it or push it down into some pudding. You'll find lot of ways to enjoy dried angel food cake.
Be Safe... Pack Bread Crumbs!
Chef Glenn recommends making bread crumbs a part of your navigational backpacking gear along with a flash light and compass. When leaving the main trail to explore a new path, drop bread crumbs behind you so you can find your way back.
Now that you know how easy making bread crumbs is, try one of my dessert recipes.