Basic Backpacking Menu Planning
What's on Chef Glenn's backpacking menu? I rustle up familiar comfort foods like Mashed Potatoes with Meat & Vegetables or Mexican Beef and Rice with Peppers. By combining one meat, one vegetable, and one starch, I get a tasty meal with lots of color and texture; and the balanced nutrition I need to tackle the next leg of the trail.
My basic backpacking menu plan accomplishes three objectives:
Reduce meal weight to three ounces or less with a dehydrator.
Vary meals with interchangeable ingredients that I like to eat.
Cook and eat in a small pot using ½ ounce of fuel or less.
Removing water from food (but not the flavor and nutrition) with a dehydrator can cut the food weight in your pack by two-thirds. I dehydrate my backpacking food with an Excalibur Food Dehydrator. When it's time to head to the woods, I consider how much food I will need and choose the meal combinations from my backpacking menu:
Meat & Beans (¼ Cup Dried) such as:
Ground Beef or Turkey
Sliced Ham, Turkey, or Roast Beef
Shrimp, Tuna, Crab Legs
Beans (Pre-cooked Black, Red, White, Pinto, etc…)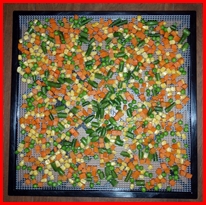 Vegetables (¼ Cup Dried) such as:
Mixed or Single Vegetables (Carrots, Corn, Peas, Green Beans)
Pepper Medley (Green, Red, Orange, Yellow)
Broccoli with Almond Slivers
Tomatoes, Onions, and Mushrooms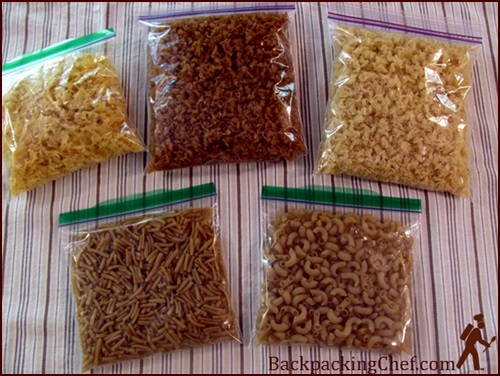 Starch Base (½ Cup Dried) such as:
Instant White or Brown Rice
Couscous
Ramen or thin pasta
Instant Grits*
Diced Potatoes
Pasta or Potato Bark**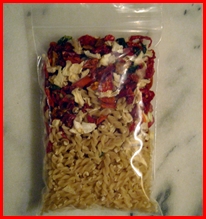 I pre-assemble meals in zip-lock bags at home using the same ratios for most meals:
¼ Cup Meat or Beans
¼ Cup Vegetables
½ Cup Starch Base
1 Cup Water
Exceptions:
* For Grits, use only ¼ cup grits and increase water by ¼ cup.
** For Potato Bark, increase water by ¼ cup.

With this simple list of interchangeable ingredients, I cook a variety of meals. Day 1: Beef and Broccoli with Rice. Day 2: Turkey and Mixed Vegetables with Mashed Potatoes. Day 3: Shrimp and Peppers with Grits. I'm no mathematician, but this backpacking menu provides enough combinations to get you from Springer Mountain to Katahdin without eating the same thing twice.
Cooking on the Trail: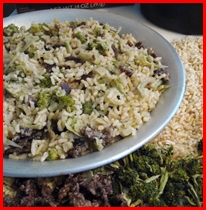 Combine dry ingredients (1 Cup total) with 1 Cup Water (liquid measure)and soak in pot for ten minutes.
Place covered pot over lit stove and bring to boil for a minute or two.
Remove pot from stove and place inside insulating pot cozy. Leave the lid on. No peeking! Raising the lid allows valuable heat to escape.
Wait ten minutes while the food continues to cook and rehydrate inside the cozy.
Remove lid, give it a good stir, and chow down. Careful- Pot will still be hot.
What is Bark?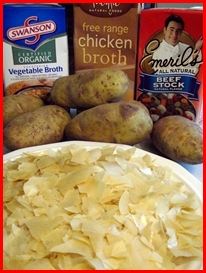 Bark is any starchy food such as pasta, beans, or potatoes that requires lots of boiling water to prepare. Cooking a single serving of pasta properly requires boiling 1 ½ quarts of water for 10 – 12 minutes. On a backpacking trip, you would burn through a lot of fuel to boil that much water and then you would have the problem of discarding the starchy waste water. I have tried cooking pasta with much less water, and while I did eat it, I found the taste to be overly starchy and not very appealing. To use only ½ ounce of fuel and make preparation on the trail simple, I cook my pasta properly at home, combine with spaghetti sauce, blend until smooth, and spread thinly on non-stick sheets in the dehydrator. The large square trays of the Excalibur Food Dehydrator are perfect for making Bark. Finished Bark has a texture somewhat like a tortilla chip and tastes great as a snack food, but at supper time it rehydrates into a nice thick sauce to go with your meat and vegetables. You can make Bark out of vegetarian baked beans, white or sweet potatoes, corn, and pumpkin.
See Food Dehydrator Recipes to learn how to make Bark.
Find a Supper Recipe from this Backpacking Menu