Dehydrated Food Recipes for Soup

I create most of my dehydrated food recipes for hiking meals, but there are always several partially filled jars of dried food left over after the backpacking season. When I hang up my backpack for the winter, it's time to turn the leftover dried food into soup.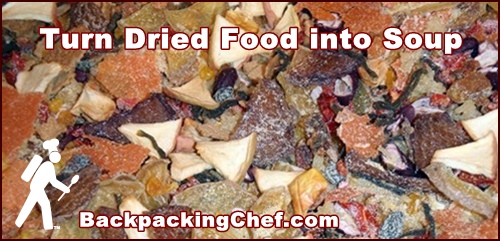 The 14 dried foods above went into my Swiss Mountain Man Soup

It's a good idea to use up your squirreled away food within a year. You can keep dried fruits and vegetables for perhaps two years if stored well, but rotating your home-dried food supply every year ensures the best taste and vitality of the food. Use up dried meat, fish, and anything containing oil within three to six months.

I make up one-of-a-kind soup dehydrated food recipes. The soups change depending on the ingredients on-hand and what I combine them with. My stash of fourteen different dried foods in Switzerland went into a tasty soup before I came back to the states. Did all those ingredients combine well? My darling wife, Dominique, ate two bowls for dinner and took some to work the next day!

Tips for Making Soup with Dehydrated Food

Bark (sweet potato, potato, corn, tomato, and bean) will dissolve and thicken soup while releasing the seasonings in the bark.
Add fresh ingredients as needed such as chicken, beef, or vegetable broth, canned diced tomatoes, plus extra vegetables or meat to round out your soup.
Run a portion of your soup through a blender and stir back into the soup to thicken it if desired.

Use 2¼ to 2½ times more liquid than dried ingredients. For example: Combine five cups dried food with twelve cups of liquid.
Soak dried ingredients in warm water or broth for fifteen minutes, bring to a boil, then reduce heat and simmer for thirty to sixty minutes. Adjust taste with salt, pepper, and spices while simmering.
Here are three dehydrated food recipes for soups that I made with leftover dried foods. They will feed a whole family or provide several meals for one person. What will you create with your leftover dried food? If you come up with something tasty, please share it with us using the form at the bottom of the page.


Swiss Mountain Man Soup

Ingredients:

⅓ Cup Dehydrated Corn, Whole
⅓ Cup Dehydrated Corn, Powdered
½ Cup Dehydrated Potatoes, Plain flavor, Scallop Sliced
¼ Cup Dehydrated Potatoes, Balsamic Vinegar & Salt flavor, Scallop Sliced
½ Cup Dehydrated Rice
¼ Cup Dehydrated Tomatoes, Diced
¼ Cup Dehydrated Bell Pepper, Red and Orange, Diced
¼ Cup Dehydrated Green Beans, French Cut
¼ Cup Dehydrated Apples
⅓ Cup Dehydrated Beans, Kidney
⅓ Cup Dehydrated Chicken, Powdered*
½ Cup Dehydrated Root Bark from Root Bark Stew
¾ Cup Enchilada Bean Bark (canned red beans and homemade enchilada sauce blended and dried into bark)
¼ Cup Double A Root Bark (cooked sweet potatoes and carrots blended and dried into bark)
1 Tbsp Salsa Leather
¼ tsp Salt
12 Cups Water

Instructions:

Powdering: I powdered the chicken in a food processor because I knew my oven-cooked chicken would be tough. I can't get canned chicken in Switzerland. Dried canned chicken rehydrates much better than oven-cooked chicken because of pressure cooking in the can. I also powdered some of the corn so it wouldn't dominate the soup's texture.

Soak, boil, and simmer -I soaked the dried ingredients (approx. five cups) in hot water for fifteen minutes, brought to boil for five minutes, and then reduced to a simmer for one hour. The long simmer gave all the ingredients time to soften and the flavors to meld.
---
Here's another dehydrated food recipe for soup that I cooked up when I got back to Georgia. I combined nine dried foods, mostly beans, from my stash and added some chicken broth and seasonings.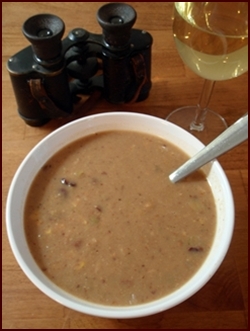 Georgia Good 'Ole Boy Soup

Ingredients:

½ Cup Dried Pinto Beans
½ Cup Dried Red Beans, Small
½ Cup Dried Kidney Beans
½ Cup Dried Northern Beans
½ Cup Dried Black-eye Peas
¾ Cup Corn Bark
½ Cup Dried Mixed Vegetables (corn, peas, carrots, green beans)
⅓ Cup Dried Onions, Diced
1 Tbsp Dried Celery
¼ tsp Salt
¼ tsp Crushed Red Pepper
¼ tsp Dried Basil
⅛ tsp White Pepper
⅛ tsp Black Pepper
2 Bay Leaves
5 Cups Water
4 Cups Chicken Broth

Instructions:

Soak, boil, and simmer - I soaked the dried ingredients in warm water for fifteen minutes. Then I added the chicken broth and seasonings and brought to a boil for five minutes. I then let it simmer on low for thirty minutes.

Blend some soup to thicken - I scooped two cups of soup off the top (floating peas, corn, and onions) and two cups off the bottom (mostly beans). I blended until smooth, stirred back into the soup, and simmered another thirty minutes.

Season to taste - The mix of red, white, and black pepper, along with salt, basil and bay leaves gave this otherwise boring bean soup a nice Cajun-style spiciness. Very tasty!


---
Here's a simple and delicious way to part with your dried vegetables and beans. Simmer them in a garlic tomato base. I didn't run any of the ingredients through a blender for this soup. It was very flavorful with minimal spicing.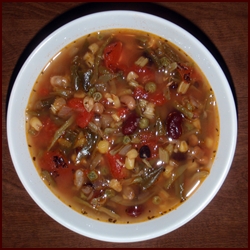 Vegetable Bean Soup with Garlic & Tomato
Ingredients:
2 cups Dried Mixed Vegetables (green beans, carrots, corn, peas, bell peppers, celery)
1 cup Dried Beans (red, black, white)
1 14.5 ounce can Fire Roasted Garlic Dice Tomatoes (Hunts Brand)
1 Tbsp Olive Oil
2 slices large Red Onion, diced
1 clove Garlic, minced
1 packet Swanson Flavor Boost (vegetable)
½ tsp Salt
¼ tsp Black Pepper
¼ tsp Dried Basil
9 cups Water
Instructions:
In a soup pot, soak dried vegetables and beans in nine cups of water with seasonings for fifteen minutes. Turn on stove and bring to boil for a few minutes and then turn down heat to simmer.
In a separate pan, cook onions and garlic in olive oil on med-low for five minutes. Add diced tomatoes, bring to boil and then reduce to simmer for fifteen minutes.
Add contents of pan to soup pot and simmer forty-five minutes to an hour.

---
More Dehydrated Food Recipes for Soup:

View the dry soup mix recipes that have been shared by readers such as Leslie's Thai Pumpkin Carrot Soup, Justin's Stuffed Pepper Soup and Paul's Quick Chili.
You can also make a soup at home with fresh ingredients, turn it into bark, and then back into soup on the trail. See my recipe for Pumpkin Soup in a back issue of my newsletter, Trail Bytes.

Share Your Dried Food Soup Recipe
If you have some dried foods getting old in the cupboard, make up a dehydrated food recipe for soup and tell us how it turns out! Use the form below.
The form expands as you add your recipe. Please, no ALL CAPS and don't worry about the formatting. I'll make it look pretty. Don't forget to click the button at the bottom when you're finished.
---
---
Continue Reading…

Dehydrated Food Recipes for Supper: All kinds of one-pot meals.

How to Dehydrate Food: Fruit, Vegetables, Meat, Bark, Leather, Rice, and more.
Recipes for Adventure: My book is full of dehydrated food recipes for the trail.